Spaces are where you organize and store your assets. Invite members to your space to collaborate and share feedback.
Once a space is created, there are a variety of features inside. To see how to create a space, check out our dashboard overview.
Sharing a Space
Sharing a space is an essential part of Revaly. You can easily share a space from two places, the first is from the dashboard.
To share from the dashboard, click on the three menu dots on a space card.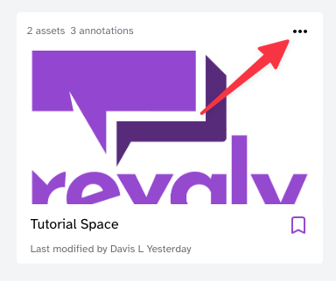 Then click share space, to add new users. If the users already have access to the space, you can quickly link them back to the space by clicking "copy link to space".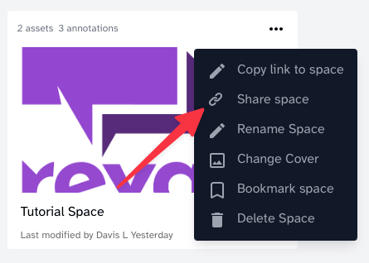 You can also share a space inside the space, by clicking the share module in the top right.

In this dialog box, you write the emails you want to share with and select their role by using the dropdown menu, then click "send" to send an invite.
You will be able to quickly select members in the share module if you have invited them to your organization. Learn more about organizations in the dashboard overview.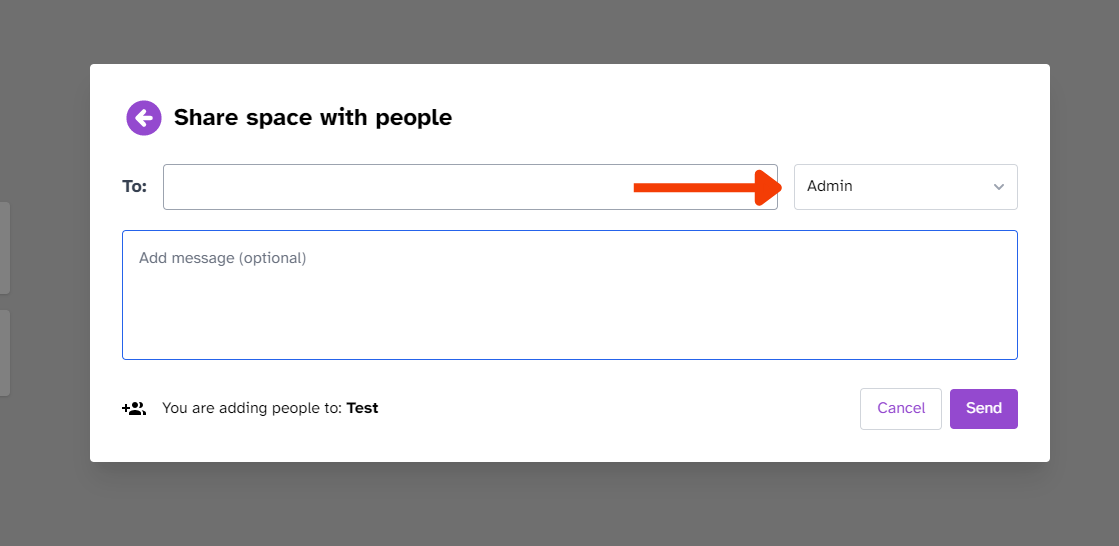 Once a space is shared the invited user will be able to see the space inside the dashboard. Check out our dashboard overview to learn where to find spaces that are shared.
Invited users will also receive an email with an invitation to the space, they can click the link in this email to quickly jump into the space.
Renaming a Space
To rename a space, click on the space name in the top left corner.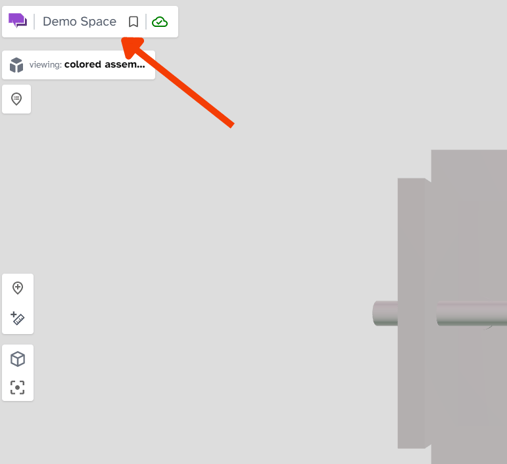 From here, you will have the ability to change the name of your space.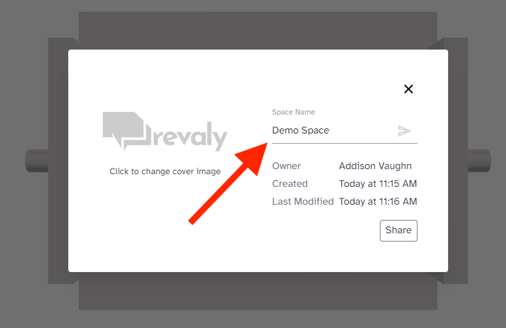 Inside this module, you can also upload a cover image which will be displayed inside the dashboard.
Adding a Cover Image
To do this, simply click on the image or the text which says "click to change cover image"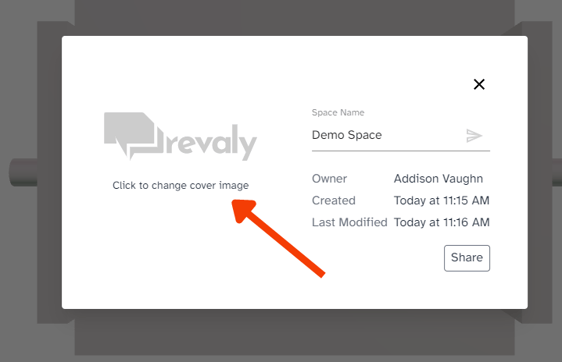 You can also change the space name and cover image from the dashboard. Just click the three-dot icon in the top right corner of the space card.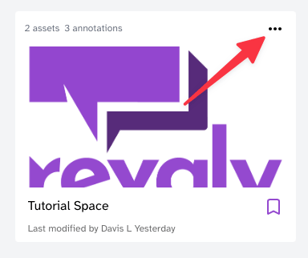 Then select either rename space, or change cover.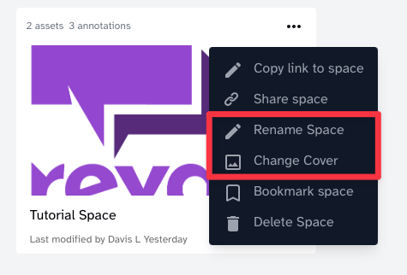 Uploading an Asset
When creating and using spaces, you will want to upload assets. Check out our asset overview to learn more about assets in Revaly.
Editing Space Membership
After members are added to a space, you can still edit their roles and remove them.
To edit members, select the settings gear within a space, then click members.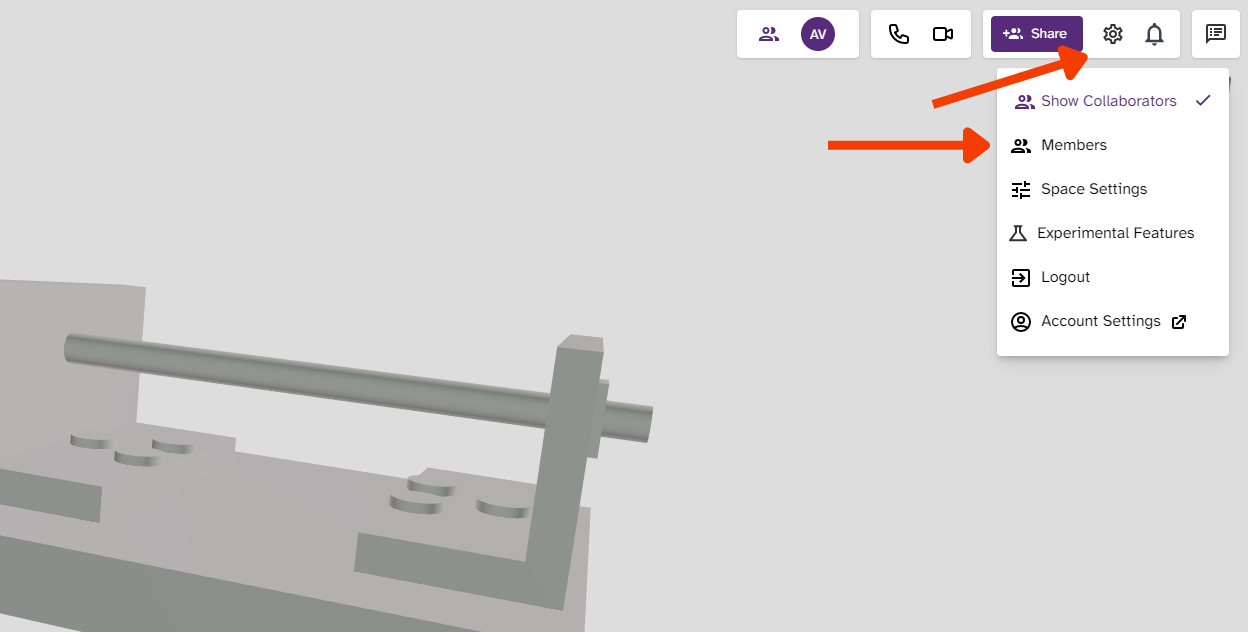 You will be taken to a list of members who have access to your space.
From here, you can edit the role of each member, and you have the option to remove members from a space by clicking the "-" icon next to each member.

Space Settings
To access space settings, click on the settings icon in the top right corner. Then, click on space settings.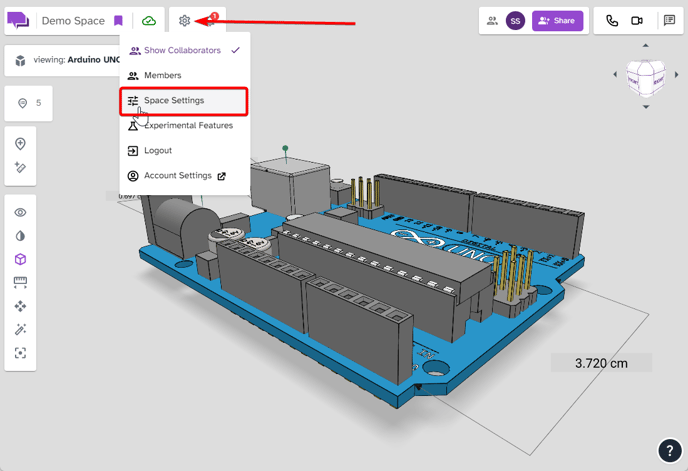 From there, you can change several settings in your space including the background, camera position, precision, and base units of measurement.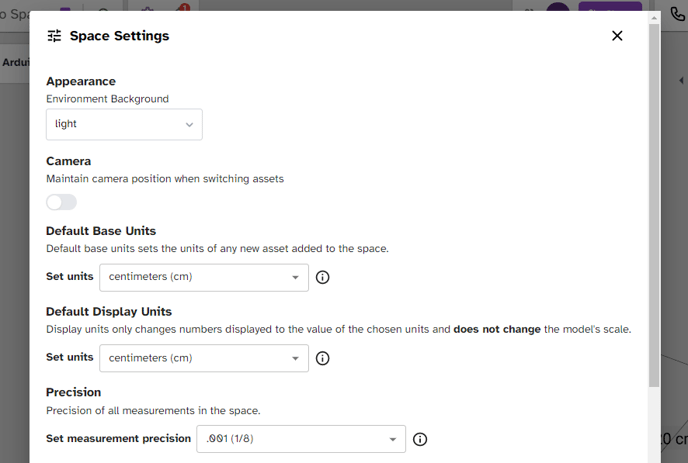 You can also adjust several rendering options, such as BREP edges, floor shadow, and lighting options.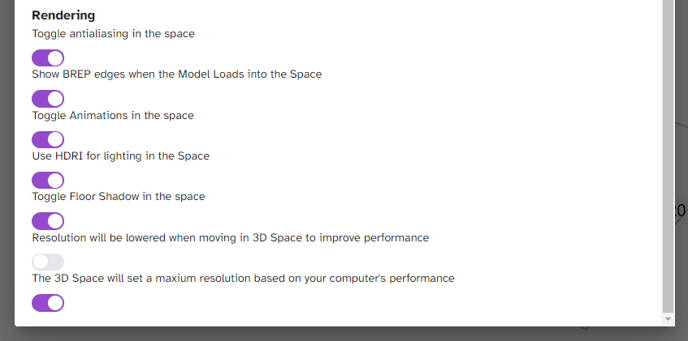 Deleting a Space
You can also delete spaces. To delete a space, navigate to the dashboard and click the three dots next to a space.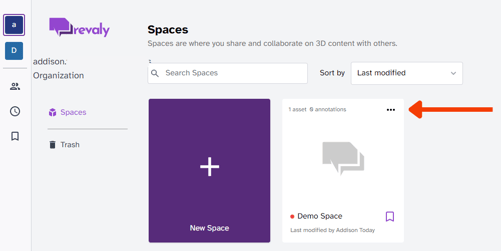 Then, click on "Delete Space".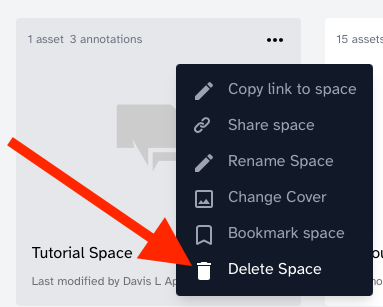 Deleted spaces are restorable for 30 days.