Overview and summary of the Revaly dashboard
Creating a Space
The dashboard is also where you create spaces. Creating a space is easy, just click the "New Space" card from inside any organization.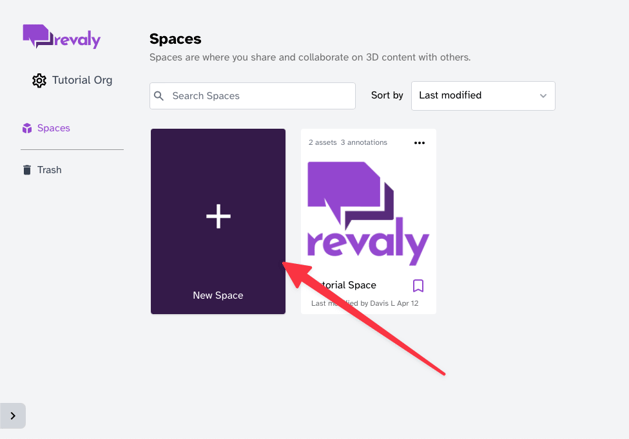 You will then be prompted to name the space. Once you have entered the name, click "Create Space"
Once you do this, the space will be created and you will be able to begin collaborating.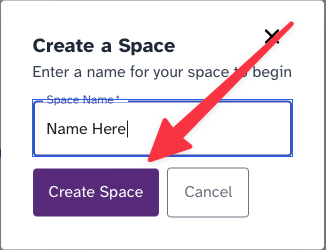 Organization(s)
Organizations are where teams store and organize spaces to work together.
You can see all of the organizations you are a member of on the left-hand side of your dashboard.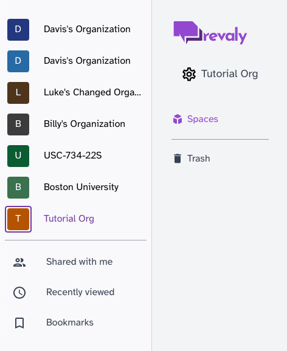 Editing your Organization Name
You can edit the name of your organization by clicking the settings button beside your organization's title.

Sharing an Organization
Sharing an organization is an essential part of Revaly. You can easily share an organization from two places, the first is from the dashboard, and the second is from inside the account settings page.
To invite a user from the dashboard, simply click the "Invite Members" button in the top right of the organization.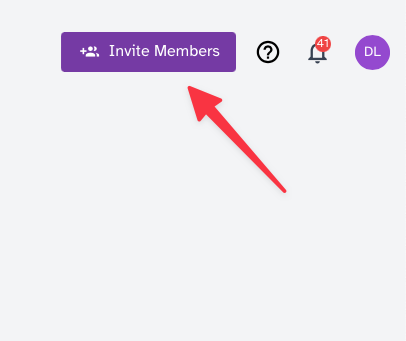 Inside the share menu, you can determine the roles of the members you are inviting. To select their role, select from the drop-down arrow, when you click send, the user will be added to this role.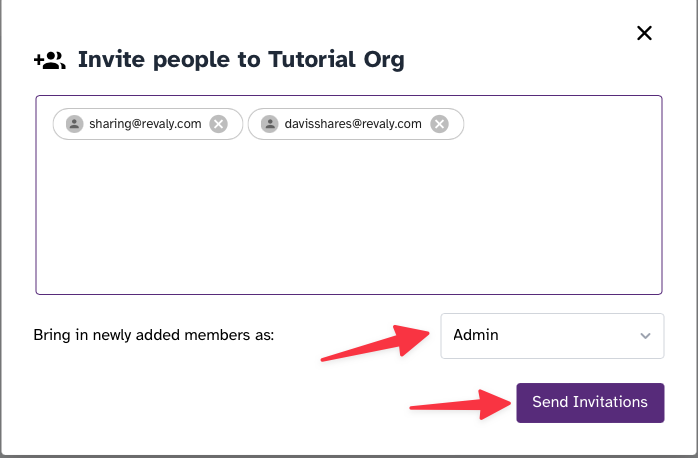 Seeing Spaces Shared with You
From the dashboard, you can also view the spaces that have been shared with you, that isn't contained in your organizations.
To view spaces shared with you, simply click on the people icon on the left side of your screen.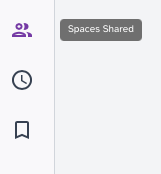 If you want to learn how to share a space in Revaly, check out our spaces overview.
Seeing Your Recently Viewed Spaces
You can also view spaces that you have viewed recently, these spaces appear to you in the order they have been shared.
You can do this by clicking the clock icon on the left side of your screen.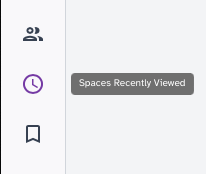 Bookmarking Spaces
To bookmark a space, click the bookmark icon on the space card.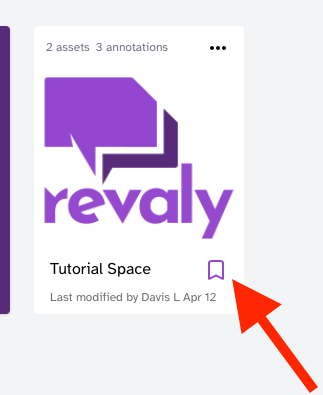 You can view Spaces that you have bookmarked by clicking the bookmark icon on the left side of your screen.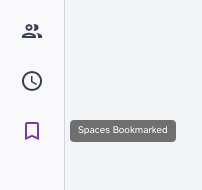 Trash Folder
You can also view spaces that were deleted by clicking the trash icon on the left side of the screen inside each organization. on the left side of your screen.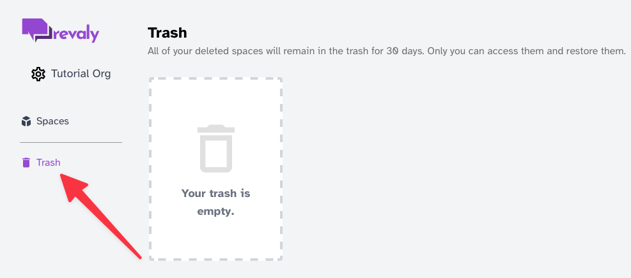 Spaces in your trash folder will remain for 30 days, after this, your space will be permanently deleted.
The number in the top left of the space card, when you hover over it is the number of days until the space is permanently deleted.
Restoring a Space
Until a space is permanently deleted, it can be restored, which will remove it from the trash and move it back to its parent organization.
You can restore a space by hovering over the space, and click "restore".