In Revaly, you can add 2D files to a space as an asset. We call them documents.
Adding a 2D File to your space
To add a 2D file to your space within Revaly, you simply click the "Add Asset" button inside the asset drawer on the top left side of your screen, or you can drag and drop your file there.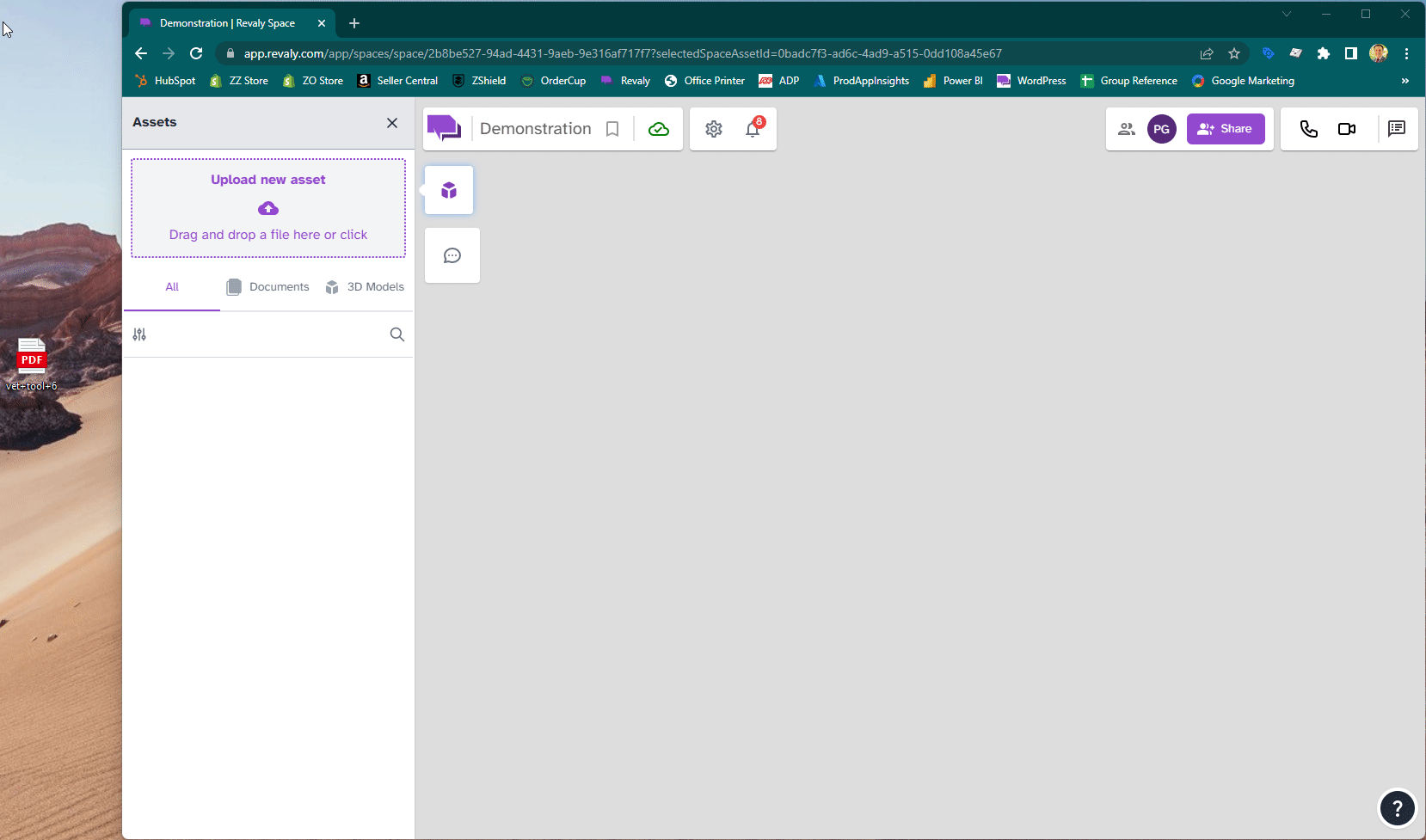 When you first create a space, the asset drawer will automatically be extended and will not be collapsible until an asset, 2D or 3D, is added.
Annotating on documents
To leave an annotation attached to a specific spot on the 2D file, click the Comment icon on the left-hand side, and click where you would like to leave the comment.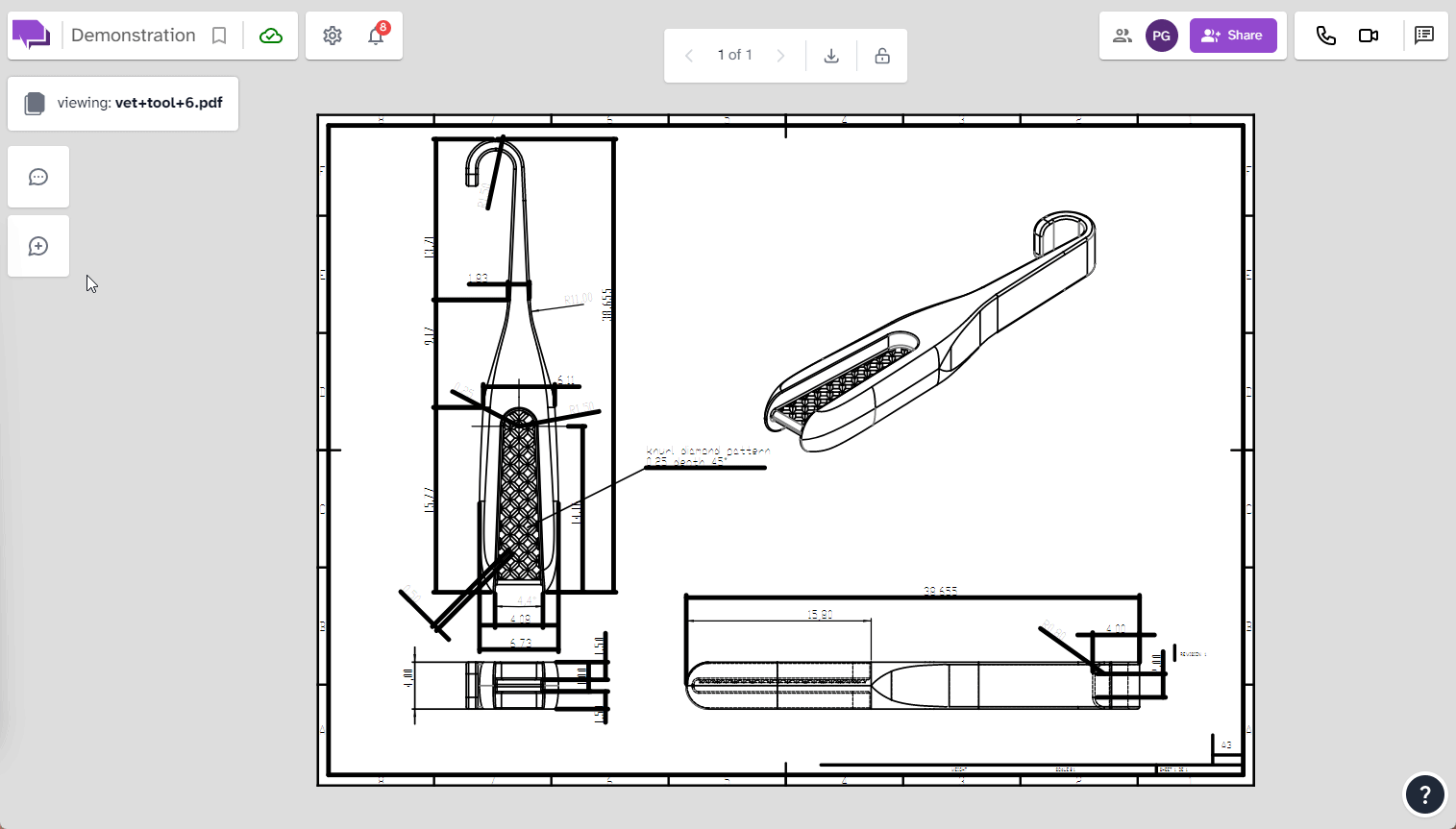 You can also respond to annotations the same way you would on 3D models. To respond to a comment, click the Details button within the comment. This will open the comment drawer, where you can respond and access further details.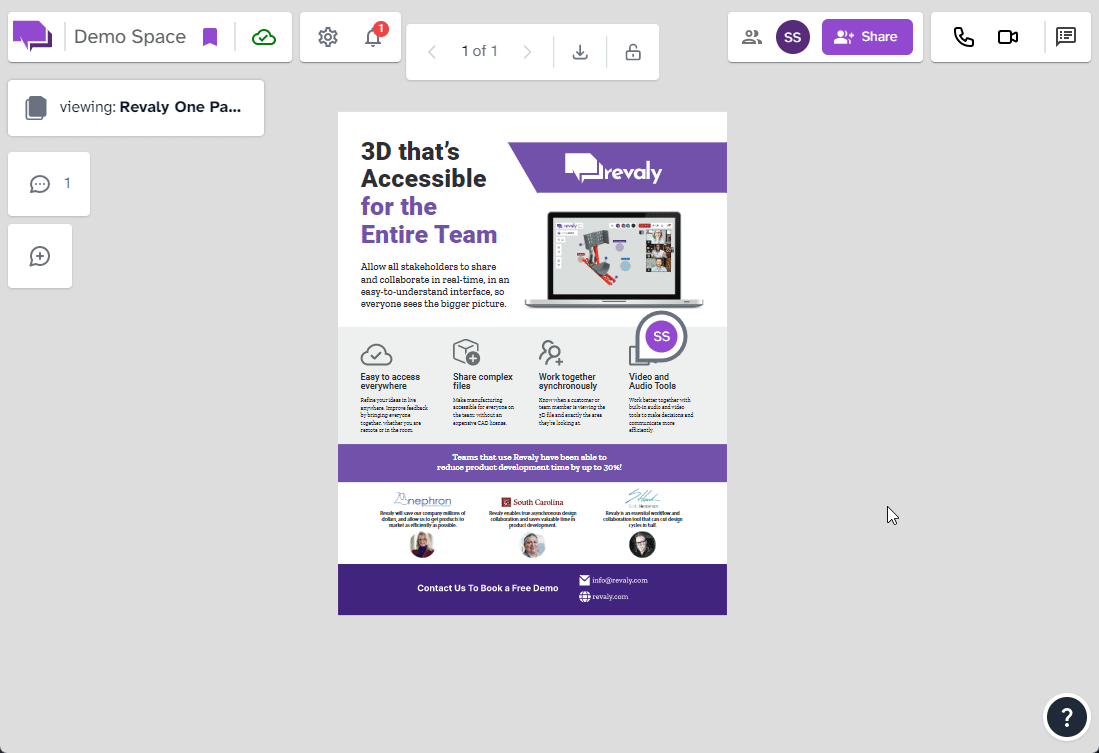 You can also access the comment drawer by clicking the annotation icon on the left side of your screen. The icon will also show you a count of the total number of annotations associated with that asset.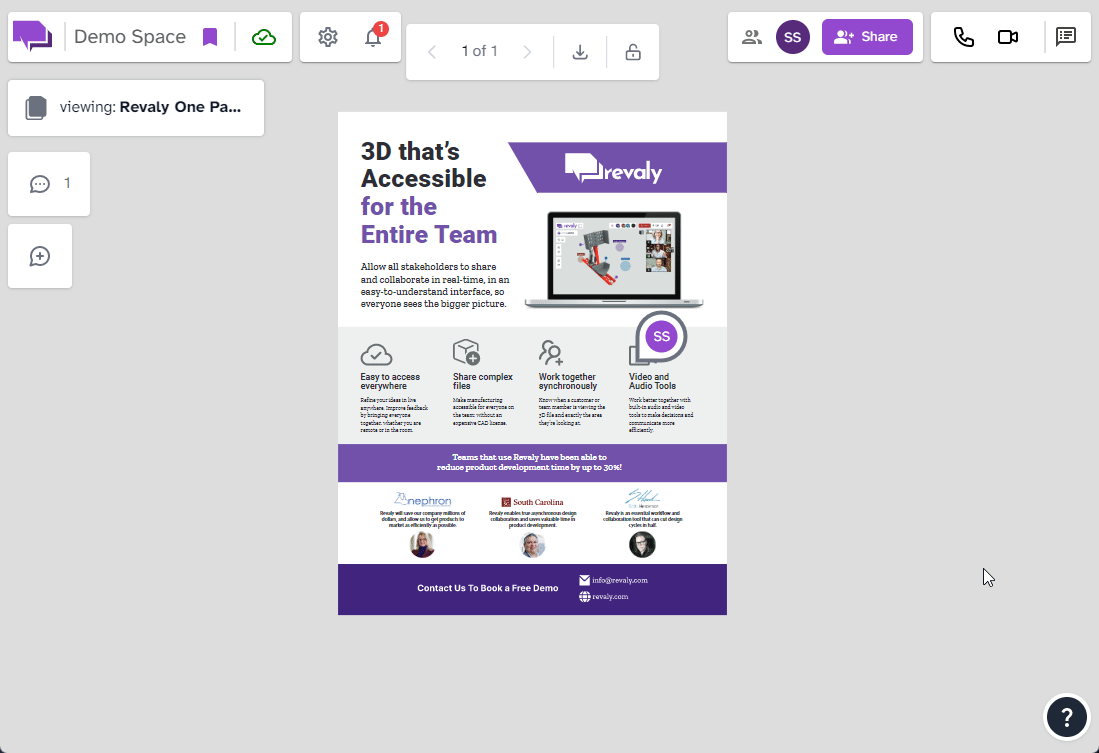 To see a preview of the comment, hold your cursor over the comment without clicking. The preview will disappear after you move your cursor away from the comment icon.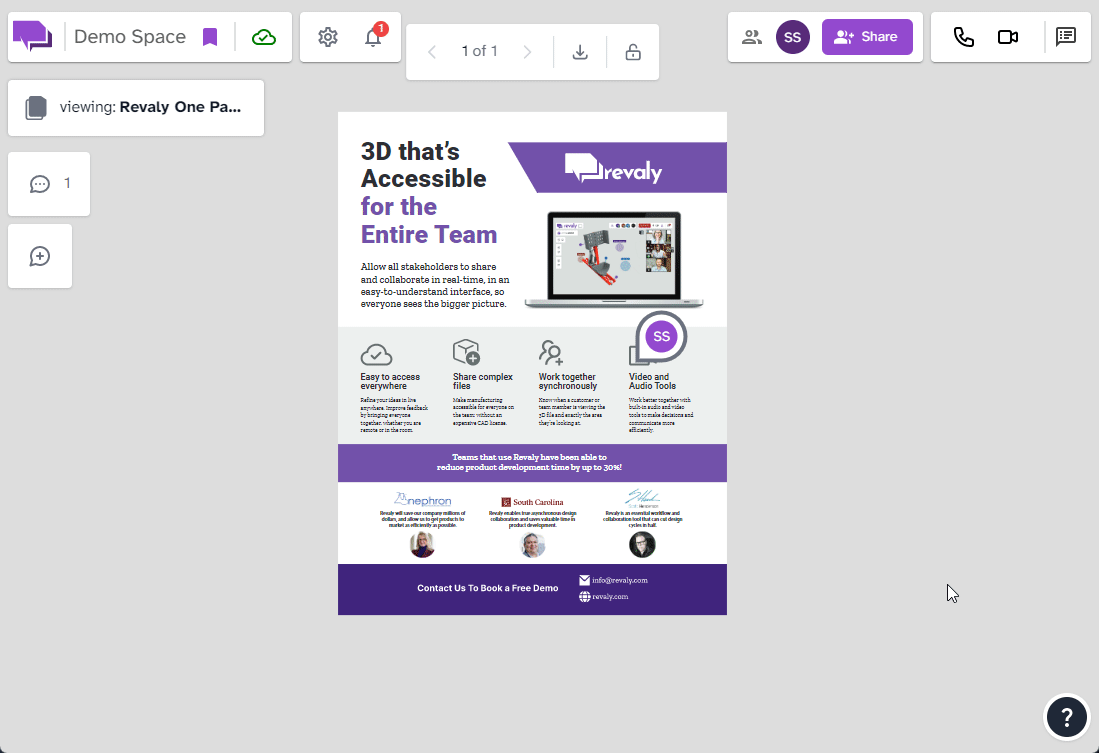 To learn more about annotations see our article on annotations.
2D Asset Options
Inside the asset drawer, there are options to share your asset. You can do this by clicking the asset options button, or the three dots next to the asset name.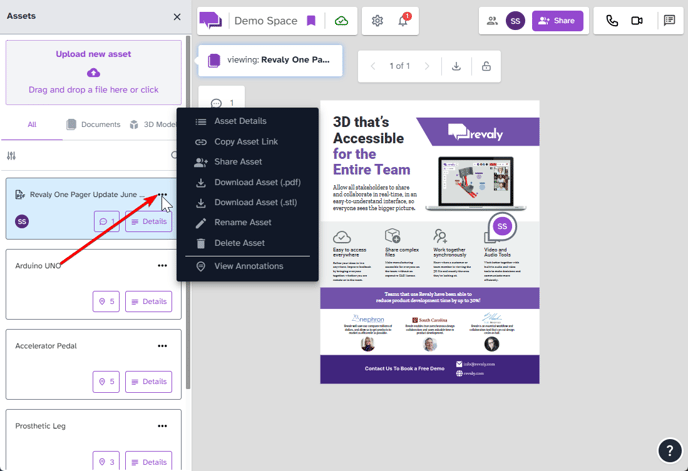 From here, you are given a few options of how you want to interact with the file:

First, you can copy the file link to share with other members in other applications.

Users must be first added to the space directly before they can open a space with a link. Users which do not have proper space permissions will receive a notice that they are unable to join the space.

You can also share the file within Revaly, by clicking the share button, then adding emails of those with access to your space.
Downloading 2D Files
There is also an option to download your asset in multiple different file types.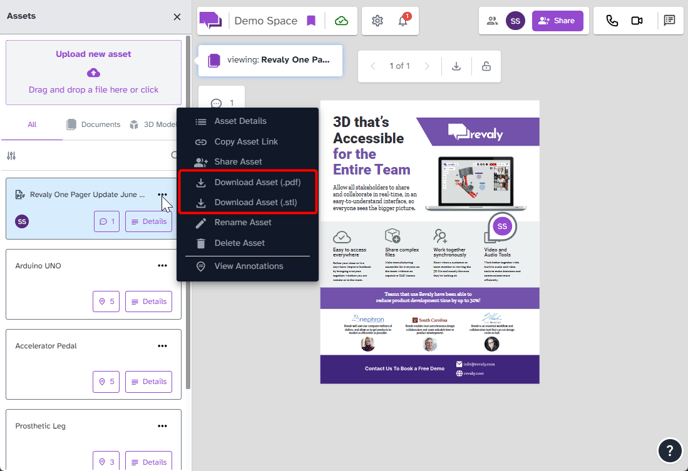 Renaming Assets
For easier record keeping, you can rename assets in your space.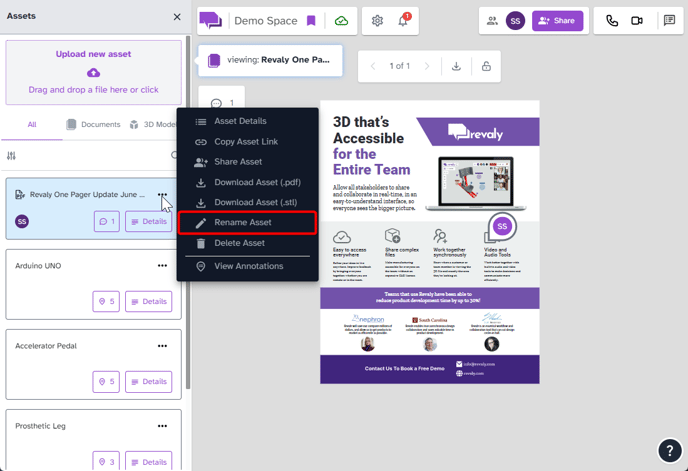 Deleting Assets
Finally, you can delete the asset from your space.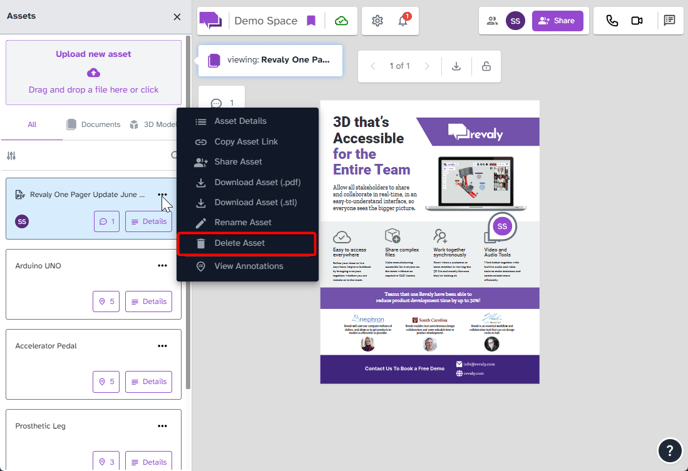 Asset Details
To view more details about your file, click on the "Details" button on the file card. The details will give you information about the asset. This includes whom the asset was added by, the date the asset was added, and file size.